EDUC 4673: Teaching English as a Second Language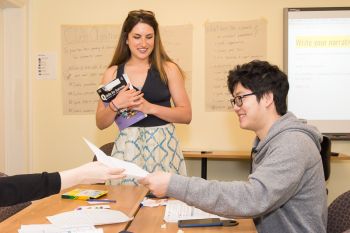 (also cross-listed as EDUC 5693)
Course Description
This 3 credit-hour course will provide you with the basic skills required to plan and teach ESL classes in a variety of contexts. Online components, including readings, short lectures and discussion forums, will be combined with hands-on workshops which will introduce you to a range of teaching methods and enable you to analyze and develop course materials.
Course Objectives
By the end of the course you will be able to
Critique and compare approaches to TESOL
Discuss the main considerations, including classroom management, when teaching reading, writing, speaking, listening, grammar, pronunciation, and lexis
Analyze existing TESOL classroom materials and create your own
Discuss professional practice and development
Plan, prepare to teach and evaluate an ESL class
Pre-requisites: You must meet the entrance requirements of Acadia University and have demonstrated some undergraduate course experience.
Instructional Hours: 36